IoT Enabler and Linen Operator Revolutionize
Indonesia's Hospital Industry
Indonesian linen operator, backed by Malaysian Internet of Things (IoT) solutions provider,
pens alliance with Omni Group of Hotels for linen management solutions.
Jakarta, 20th November 2020 – Indonesian linen supply titans, PT. Indo Dwi Sentosa (PT. IDS) signs a Memorandum of Understanding (MoU) with OMNI Hospitals Group for the integration of a Linen Management System (LMS) backed by MDT Innovations Sdn Bhd (MDTi), a deep tech company involved in IoT, Digital ID, and Security Systems. MDTi's Linen Management System (LMS) will be integrated into PT. IDS' laundry services for linen tracking to increase visibility and curb the spread of COVID-19 at OMNI Hospitals.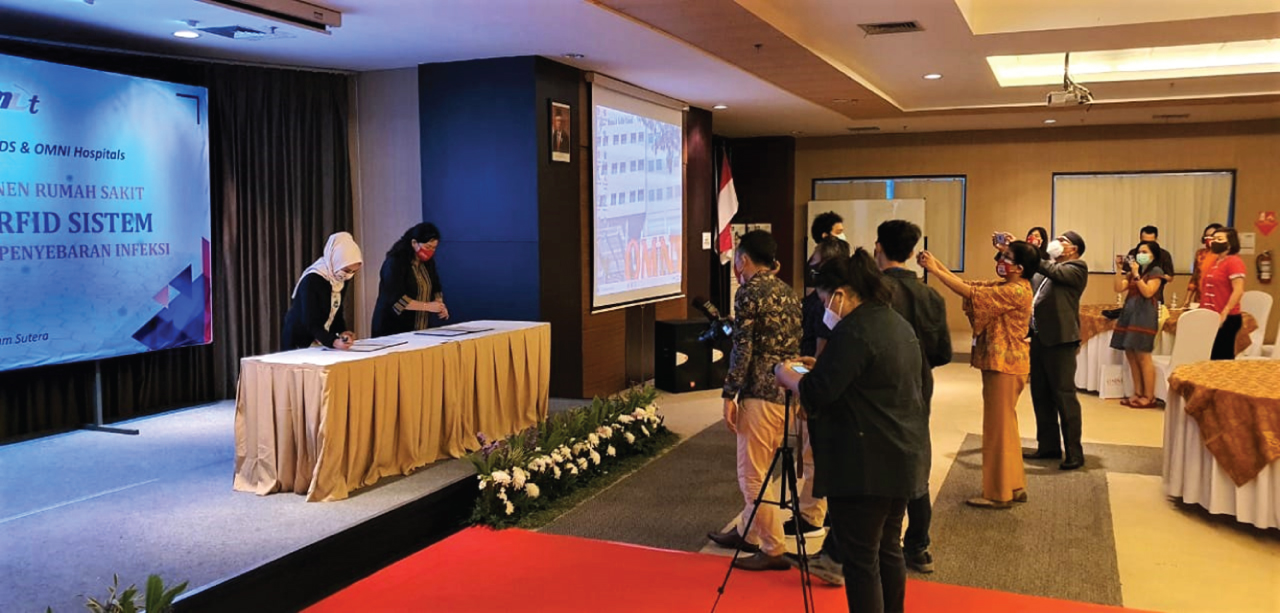 Madam Devira Ros and Dr Maria Theresia Yulita, MARS, MSM signing the agreement.
The signing between Executive Director of PT. IDS, Madam Devira Ros and CEO of OMNI Hospitals Group, Dr Maria Theresia Yulita, MARS, MSM was witnessed by the CEO of MDTi, Mr. Liew Choon Lian, who joined the event virtually. The system enables the assessment of direct linen contact with officers, nurses and employees as it automatically monitors and records activities by reading the RFID tag on the linen, allowing the linen to be identified, counted and tracked. It also facilitates sorting and validates pick-up and delivery at the customer's location. The RFID technology used by PT. IDS is the result of a joint development with MDTi Malaysia.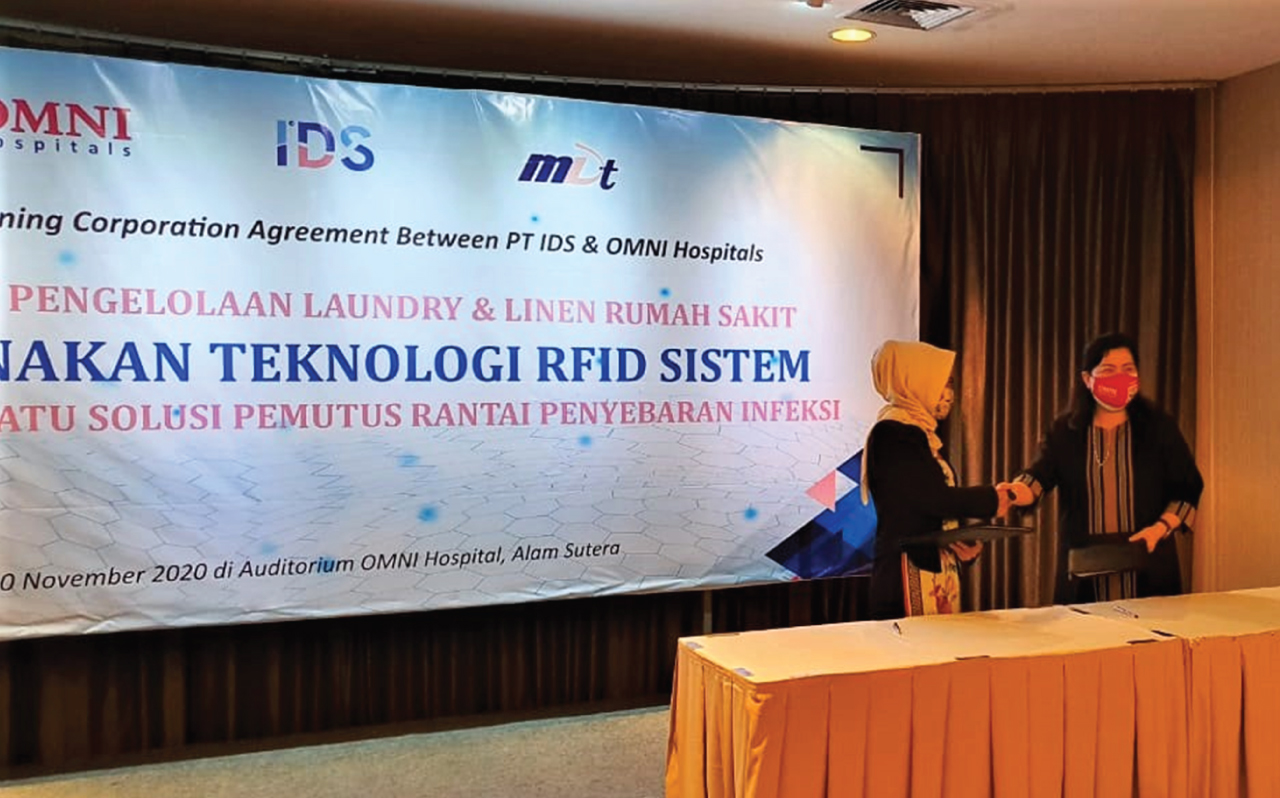 Madam Devira Ros and Dr Maria Theresia Yulita, MARS, MSM shake hands after the signing.
"OMNI Hospitals always prioritizes the safety and security of patients and medical personnel through innovations. By using the RFID system, we can indirectly monitor the spread of disease and improve OMNI Hospitals' services for patients to have a good experience and speed up their recovery process," says Dr Maria Theresia Yulita, MARS, MSM, MH.
Executive Director of PT. IDS, Devira Ros says she is happy with the collaboration. "The management of laundry and linen in hospitals using this system is relatively inexpensive as the technology can help break the chain of spreading the infection," she states.
"We are very excited about the new arrangement with both parties. Aside from leveraging on each other's prowess to offer improved solutions, this strategic partnership will further strengthen MDTi's presence in Indonesia," says Liew Choon Lian, Chief Executive Officer at MDTi Malaysia.
– END –
About MDT Innovations Sdn Bhd
MDT Innovations (MDTi) is one of the fastest growing deep tech companies in Asia Pacific focusing on IoT (Internet of Things), cybersecurity and digital ID. The company's underlying strength is fundamentally in its 38 intellectual properties in areas such as miniaturization, low energy, wireless design, and neural networks. These drive MDTi's competitive advantage in areas of intelligent wireless communications, computer vision, as well as artificial intelligence for education, manufacturing, retail, government, and aviation. The immense excitements of IoT and Industry 4.0 mega trends has further put MDTi in the spotlight through its standout engineering achievements in the development of world smallest NFC module, MD770R, NFC in SIM Card, and LINOTAG which uses yarn as transmitting antenna. MDTi's solutions in crowd movement, work in progress automation, and smart retail solutions are found in Fortune-500 semiconductor firm and retail chains in China, Malaysia, and Australia. Profitable since its inception, MDTi has seen tremendous growth in export sales, where it has grossed more than a billion of accumulated sales to date. As of 2018, 98% of total revenues are contributed by export sales, which is evidence of MDTi's successful international presence.
About PT Indo Dwi Sentosa
PT Indo Dwi Sentosa started off manufacturing casual and sports footwear, as well as ready-made garments, which includes the following range of products: Underwear & Loungewear, Shirts & Blouses, Denim & Jeans, Jackets & Coats, Suits & Blazers, Trousers & Shorts, T-Shirts & Polos, and Dresses & Skirts. Having garnered success in the apparel and footwear business, the company began expanding its market by exporting to other Southeast Asian countries. Currently, Asia remains its main export market, making up about 80% of overseas sales. The company has now broadened its offerings to include linen supply to Hospitals and Hotels.
About Omni Hospitals Group
Founded in 1972, OMNI Hospitals Group is a leading hospital in Indonesia with high management standards in providing professional healthcare services. It currently serves over 3 million patients, with 30,000 surgical operations, supported by 210 medical experts in their fields. OMNI Hospitals Group continuously improves hospital services in-line with international accreditation (JCI). It consistently increases its capacity. Aiming to provide the best service, OMNI Hospitals has centers of excellence in four locations, including: OMNI Hospital Pulomas, OMNI Hospital Alam Sutera, OMNI Hospital Cikarang and OMNI Hospital Pekayon.
For more enquiries, kindly contact us at:
Jeswena Kaur
Assistant Manager, Business Development
MDT Innovations Sdn Bhd
jeswena@mmdt.cc
012-348 4897