CHAIRMAN'S GREETING
Mr. Liew Choon Lian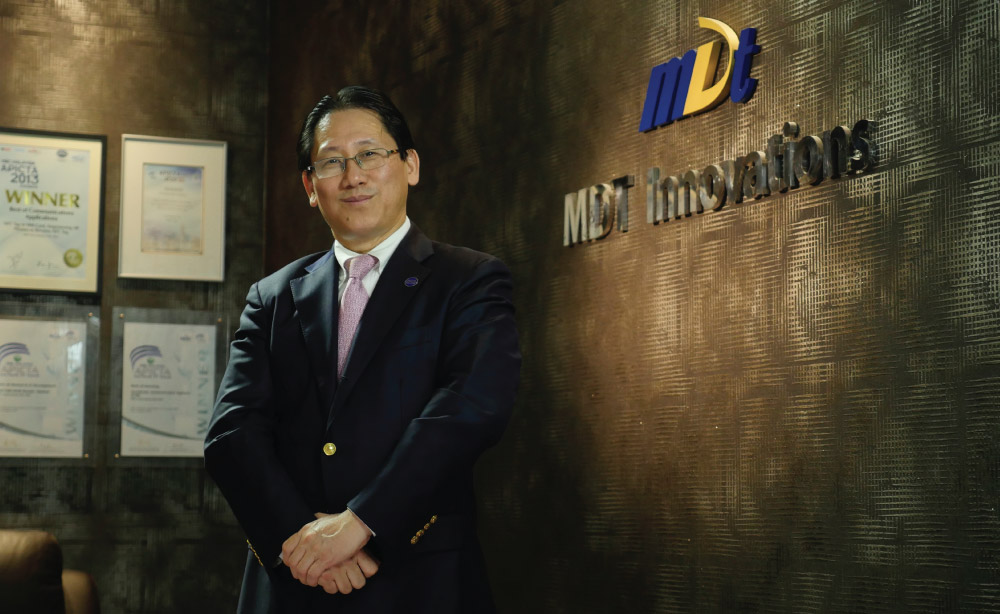 MDT Innovations Sdn. Bhd. specialises in the design, research and development of IoT (Internet of Things) solutions, providing software, hardware, application systems, and technical services. IoT primarily focuses on non-contact, long reading distance, high speed, real time, to accurately collect and process data, enabling people to identify, authenticate, monitor and manage objects, items, equipment, humans, animals, documents and goods under different environments and conditions. IoT is considered one of the most important and revolutionary technologies with the biggest market potential in the century.
For years we have dedicated our research to the developments of RFID components, to enable seamless integration of auto-identification, information and communications technologies to make our IoT products more creative, futuristic, and systematic. In the international markets, our products have made their entries in the United States, China, Indonesia, Philippines, Japan, India, Middle East and other customer groups.
Currently the company possesses its own product branding and intellectual property, the IoT products that it develops and markets includes low frequency (LF), high frequency (HF), ultra high frequency (UHF), microwave (2.45GHz) based gateways, readers, modules, inlays, tags, and MEMS. Our main application packages and system solutions include Automated Vehicle Management System, SchoolTrac School Surveillance and Security System, People-Asset-Analytics, Intelligent Impact Monitoring, and NFC in SIM card.
As a pioneer enabler in IoT technology and system applications in this region, our corporate goal is to provide the most optimal solution in the shortest time to meet the requirements of our diversified customers. We strive to provide products of the highest quality, and determined to provide the most excellent service. We actively indulge in research and development to create the next generation products, to earn the trust and support of our customers and the market as the goals of our dedication and hard work.
Looking ahead, MDT will continue to strengthen its IoT, enhance its product quality, expand its business scale, maintaining its competitive edge, in order to become market leader in the IoT industry and an internationally established player.
Chairman & CEO, MDT Group of Companies
Liew Choon Lian
マルチメディアディスプレイテクノロジーSdn Bhd (略称;MDT)はRFID;(電波による固体識別)の、最先端技術のスペシャリスト会社として、設計、研究、開発を手がけ、ソフトウエア、ハードウエアソリューション、アプリケーションシステム及び技術サービスを行っております。
RFID技術は非接触で、長距離、高速、リアルタイムで正確にデータの修正や更新ができ、人物の身元確認や真偽確認が可能で、物品管理、商品、用具、人物、動物、文書、 商品をさまざまな環境や状況に対応しています。
RFIDは市場において、今世紀最も革命的で、重要であり、まだ多くの可能性を秘めた技術の一つです。
数年にわたり、弊社は自社製品を創造的、未来的、合理的にしていく為、自動認識、情報、コミュニケーション技術のシームレスインテグレーションを可能にするRFIDのリサーチと開発をしてまいりました。そして国際市場において我が社の製品がアメリカ合衆国、中国、インドネシア、フィリピン、日本、インド、中東及びその他の数々のお客様に受け入れられてきました。
現在、会社は自社商品のブランド化や知的財産化を進め、RFID製品は長波(LF)、短波(HF)、極超短波(UHF)、マイクロ波(2.45GHz)のリーダー、モジュール、インレイ、タグ、及びICチップを開発し市場改革しております。
弊社は車両自動認識管理システム、スクール監視安全システム、図書管理システム、会議アクセスコントロールシステム、集会管理システム、倉庫在庫管理システム、資産管理システム、医療管理システム、車両検査システム、などのアプリケーションパッケージとシステムソリューションを主に取り扱っています。
国内のRFID技術とシステムを推進するパイオニアとして、弊社の目標は多様化するお客様のご要望に合った最善の改善策を最短の時間でお届けする事です。
私どもは高品質の商品と最高のサービスをお届けできるよう努力しております。
弊社は自社目標である市場や皆様の信頼と、サポートを得られるよう、次世代の商品を作るべく、日夜開発と研究を進めています。
MDTはRFID業界において国際的に確立した一員として、今後とも市場のリーダーになるべく、将来を見据え、R&Dを強化し続け、製品品質の向上、ビジネス拡大、競争力の維持をしていく所存です。
Chairman & CEO, MDT Group of Companies
Liew Choon Lian
多媒体显示科技(MDT)是一家专注于射频识别(RFID)行业,提供软硬件设备,应用系统和技术服务的高科技公司。射频识别技术,结合非接触、长距离、快速、实时、准确采集与处理信息等优点,实现人们对各类物体或设备在不同的状态与环境下地自动识别和管理,已逐渐成为了物流时代的新宠。
本公司目前拥有自己的专利技术和品牌,研发经营的RFID产品包括低频(LF),高频(HF),超高频(UHF),微波频率(2.45GHZ)的读写器,模块,天线,标签与芯片。主要RFID解决方案包括汽车管理系统,校安通系统,图书馆系统,仓库管理系统,资产管理系统等。
多年来我们潜心研究射频识别的发展,让自动识别技术,信息技术和通信技术在产品中得以融合、集成,使产品更具有思想性、前瞻性、系统性。在国际市场方面,公司产品已远销东南亚、中国、日本、印度、中东等的客户群体。
作为马来西亚从事射频识别技术推广与应用的先驱,迅速地提出最佳解决方案以满足不同客户的需求乃是我们企业的宗旨。我们不仅提供高质量的产品,而且还致力于提供卓越的服务、积极地参与新一代研究开发工作,以赢得市场的信赖为目标而努力奋斗!
展望未来,作为国内著名的RFID供应商,MDT将继续增强研发实力,提升产品质量,扩大经营规模,保持竞争优势,向着射频识别行业的领导者和国际知名企业的目标迈进。
MDT集团董事长兼总裁执行长
刘春联
ABOUT CHAIRMAN & CEO
MR. LIEW CHOON LIAN
Liew Choon Lian is the Group Chairman and CEO of MDT Innovations. Liew guided MDT Innovations to a place in history when it emerged 12th in the Fast 500 Asia Pacific 2011, the highest ranking ever achieved by an Asean company. Between 2006 and 2013, the company won 13 Asia Pacific ICT awards, including two Prime Minister's Best of the Best awards. It has also won the Red Herring Top 100 Asia Company 2008 and the Red Herring Top 100 Global Company 2009 awards. These awards testify to the company's strengths in technology and innovation.
In the early 1990s, Liew was among the top market analysts of a hot technology called "multimedia", with Nick Arnett of Multimedia Corporation. Liew was also among the key players involved in pen-based and mobile computing, working with Jeff Hawkins, Donna Dubinsky (Palm Computing) and Maeda (Sharp Corporation), which resulted in the successful Palm Pilot and Zaurus.
At Fuji-Keizai USA, Liew became a very successful industry analyst; then a strategic consultant in New York, San Jose and Tokyo, serving world-class corporations such as NTT, Panasonic and NEC. Liew was eventually hired by Matsushita (Panasonic) Corporation as General Manager of Worldwide Operation based in Fujisawa before becoming an entrepreneur.
Liew was among the 13 members of the Local Advisory Panel to the Ministry of Science and Technology and MDeC, providing input on enhancing Malaysia's ICT competitiveness. Abroad, Liew plays a vital role in major ICT events as a speaker, judge or panel member.