ioT Solutions
INDUSTRY 4.0 WIP AUTOMATION
Empowering Productivity With MDT's IoT Solutions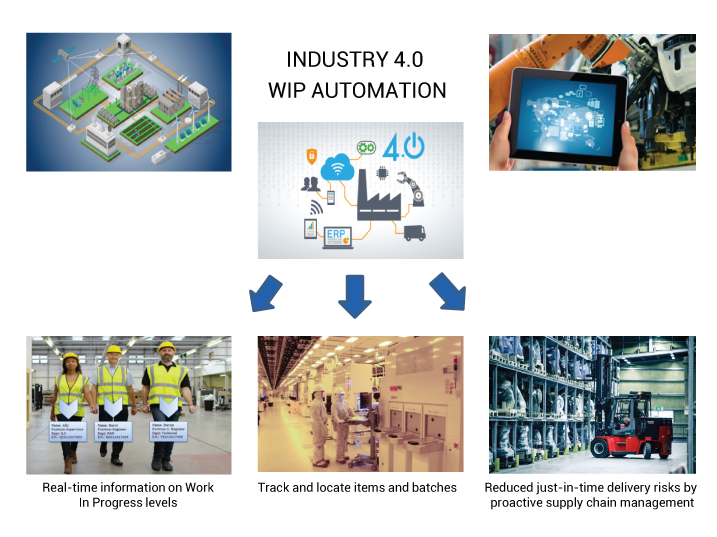 Industry 4.0 is the current trend of automation and data exchange in manufacturing technologies. It includes cyber-physical systems, the Internet of Things and cloud computing.
Industrial 4.0 Work In Progress (WIP) Automation stands out with the aim of giving the best business improvements and user experiences by Empowering Productivity with MDT's IoT Solutions through retrofitting techniques on existing manufacturing infrastructure.
Industrial 4.0 WIP Automation is a platform where Work in Progress Levels are recorded and can be monitored in real time. Streamline Identification, Authentication & Tracking Procedures are one of the key features of this platform.
This platform is also the best and fastest way to distinguish production lots, saving time and resources. Accordingly Industrial 4.0 WIP Automation also helps reduce just-in-time delivery risks by proactive supply chain management.
Built-in NFC Controller Built-in Anolog Front End & NFC Antenna Built-in Booster Circuit to Overcome Interference Plug-in compatibility with any mobile phones, no NFC phone required
DES / 3DES, SM1, 2048bit RSA, SM2 Support TRNG EAL5+Common Criteria
Delivering everything needed for 2G, 3G HSDPA, HSDPA+ LTE Connectivity 2FF and 3FF SIM Cards are Available