HF INLAY READER
HF-Readers7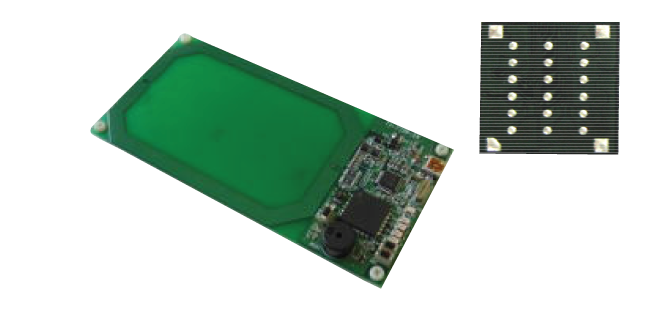 THE MINI-SIZED HF RFID READER MODULE
RFID is recognized as the most reliable technology today for product identification and authentication. Cost which was the greatest obstacle in RFID implementations is now being overcome with the introduction of MD770R HF RFID Core that supports all ISO15693 tags and ISO14443 A/B tags.
This revolutionary, mini-sized RFID Reader Module reduces the complexity of RFID reader by simplifying the circuits with built-in transceiver thus greatly reduces component cost. It is small in size, consumes low power, but it contains the functionalities of a full featured RFID reader. This module can be used to build HF RFID readers for any applications.
ST LRIs; NXP I-CODE, I-Code SLI; Tag-It; My-D; and any ISO/IEC 15693 & ISO/IEC18000-3 compatible tags.
<10mA RF carrier ON; <8.5mA RF carrier OFF, <10μA RF power down
The MD770R Evaluation Kit (EK) is suited for all potential ODM/OEM customers who wish to build readers for mobile devices or high performance stand alone RFID readers/scanners
Evaluation Kit Package
• USB based MD770R reader
• Sample ISO/IEC15693 tags from respective makers
• Programmer's manual, compatible with .Net, and C++
• Datasheet
• Evaluation Kit Case
Version: MD770REK
Date: 2013 May 09