MDT Innovations Donates to Tzu Chi Foundation
Malaysian Internet of Things (IoT) solutions provider, MDT Innovations donates boxes of masks
and sanitizers to Taiwan Buddhist Tzu Chi Foundation Malaysia.
Kepong, 19th June 2021 – MDT Innovations Sdn Bhd (MDTi), a deep tech company involved in IoT, Digital ID, and Security Systems conducted a Corporate Social Responsibility (CSR) activity over the weekend by sending 7 cartons of face masks and 120 bottles of sanitizers, out of the total 7,500 boxes of face masks and 700 sanitizer bottles worth around MYR400,000, which will be donated to Taiwan Buddhist Tzu Chi Foundation Malaysia.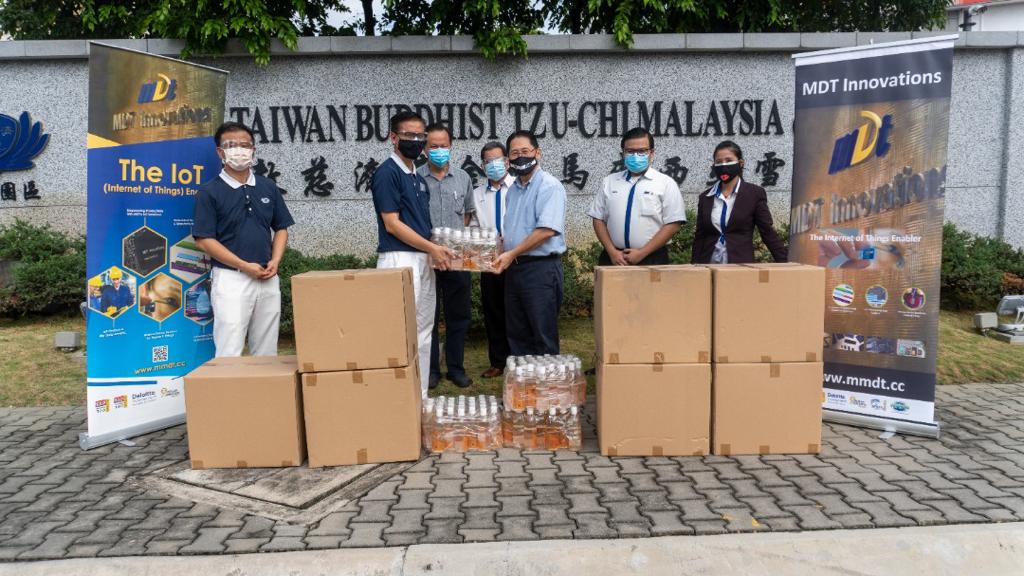 Sio Kee Hong, Deputy CEO of Tzu Chi KL & Selangor receiving the donations
from Liew Choon Lian, CEO of MDT Innovations.
The boxes of face masks and sanitizer bottles were handed over by the CEO of MDTi, Liew Choon Lian to Sio Kee Hong, Deputy CEO of Tzu Chi KL & Selangor, witnessed by 2 Tzu Chi representatives and 3 MDTi representatives. As the location was being used as a vaccination centre on the day of the drop off, the items were delivered to the gate instead of inside the compound as a precaution for all those involved and those in the compound.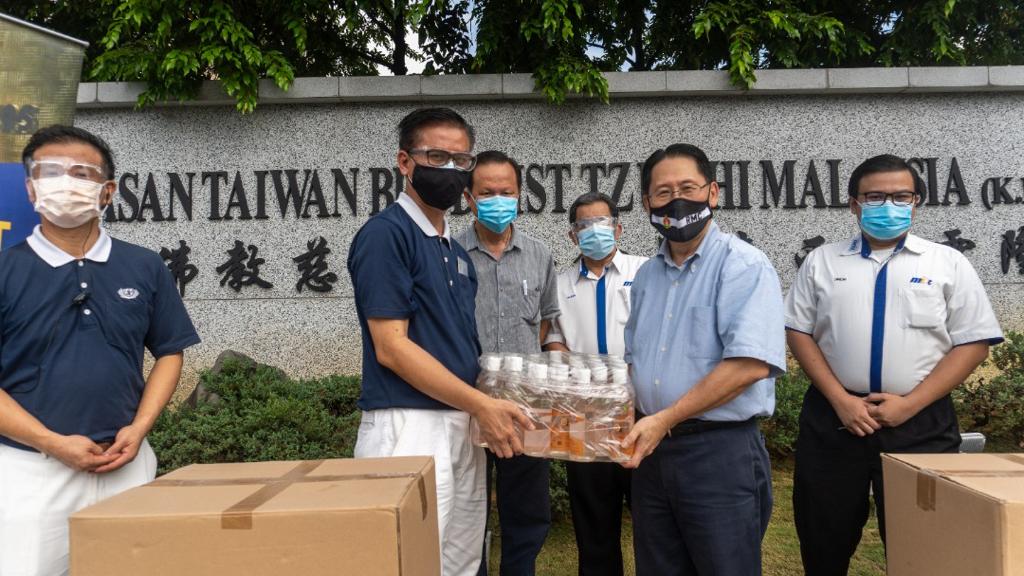 A close-up of the handover of the donated items as witnessed by Tzu Chi and MDTi representatives.
"Many people are currently facing difficulties in attaining the simplest items to protect themselves during this pandemic, such as face masks, so we are glad to be able to contribute however we can. The Tzu Chi Foundation's mission work is a great avenue for our donations to reach the less fortunate, who really need such items," says Liew Choon Lian, CEO of MDT Innovations.
Deputy CEO of Tzu Chi KL & Selangor Sio Kee Hong is happy with the donation, saying "We do mission work to bring relief to communities locally and internationally, hence the reason why this sort of donations, however small the amount, can bring us a long way in helping the less fortunate."
About MDT Innovations Sdn Bhd
MDT Innovations (MDTi) is one of the fastest growing deep tech companies in Asia Pacific focusing on IoT (Internet of Things), cybersecurity and digital ID. The company's underlying strength is fundamentally in its 38 intellectual properties in areas such as miniaturization, low energy, wireless design, and neural networks. These drive MDTi's competitive advantage in areas of intelligent wireless communications, computer vision, as well as artificial intelligence for education, manufacturing, retail, government, and aviation. The immense excitements of IoT and Industry 4.0 mega trends has further put MDTi in the spotlight through its standout engineering achievements in the development of world smallest NFC module, MD770R, NFC in SIM Card, and LINOTAG which uses yarn as transmitting antenna. MDTi's solutions in crowd movement, work in progress automation, and smart retail solutions are found in Fortune-500 semiconductor firm and retail chains in China, Malaysia, and Australia. Profitable since its inception, MDTi has seen tremendous growth in export sales, where it has grossed more than a billion of accumulated sales to date. As of 2018, 98% of total revenues are contributed by export sales, which is evidence of MDTi's successful international presence.
About Taiwan Buddhist Tzu Chi Foundation Malaysia
Originating in Taiwan, Tzu Chi was brought to Malaysia by Ye Ci Jing in 1989, when she was posted by her company to work in Penang. She promoted Tzu Chi to the local community besides visiting Dharma Masters in various Buddhist temples to spread Tzu Chi's spirit. Inspired by her, many locals joined as volunteers. In 1992, David Liu and Echo Chien, a Taiwanese couple who set up a factory in Malacca, were encouraged by Venerable Master Bo Yuan to promote Tzu Chi's missions in Malaysia. They later led volunteers from the Central, Southern and East Malaysia to participate in Tzu Chi's charitable work to "help the needy and educate the rich". In 1993, both Tzu Chi Penang and Tzu Chi Malacca Liaison Offices were set up. Two years later, Tzu Chi was registered as an NGO in Malaysia. As the activities for the charitable missions started to grow, David Liu built the Malacca Tzu-Chi Jing Si Hall on his factory premises and donated it to Tzu Chi. It was officially opened on May 21, 1997. Thereafter in 2001, he decided to donate the whole premises to Tzu Chi. To-date, there are close to 170 Tzu Chi offices and contact points across the 13 states of Malaysia.
For more enquiries, kindly contact us at:
Jeswena Kaur
Assistant Manager, Business Development
MDT Innovations Sdn Bhd
jeswena@mmdt.cc
012-348 4897