MDT Innovations Joins Forces with
MIDA for MADC Project
Internet of Things (IoT) enabler connects with MIDA (Malaysian Investment Development Authority)
on MADC's (MIDA Assessment Development Centre) HyTalent programme
KUALA LUMPUR, MALAYSIA, 1st October 2020 – Today, MDT Innovations Sdn Bhd (MDTi) signed an MoU with MIDA for MADC's all-new HyTalent initiative which will be the leading centre for developing hybrid digital skills to meet industry 4.0 needs, as the alliance is expected to nurture talents in the Internet of Things realm. Liew Choon Lian, CEO of MDTi, a deep tech company focusing on IoT, Digital ID, and Security Systems, signed the MoU with Dato' Azman Mahmud, CEO of MIDA, a principal government agency promoting local manufacturing and service sectors at MIDA headquarters in Kuala Lumpur.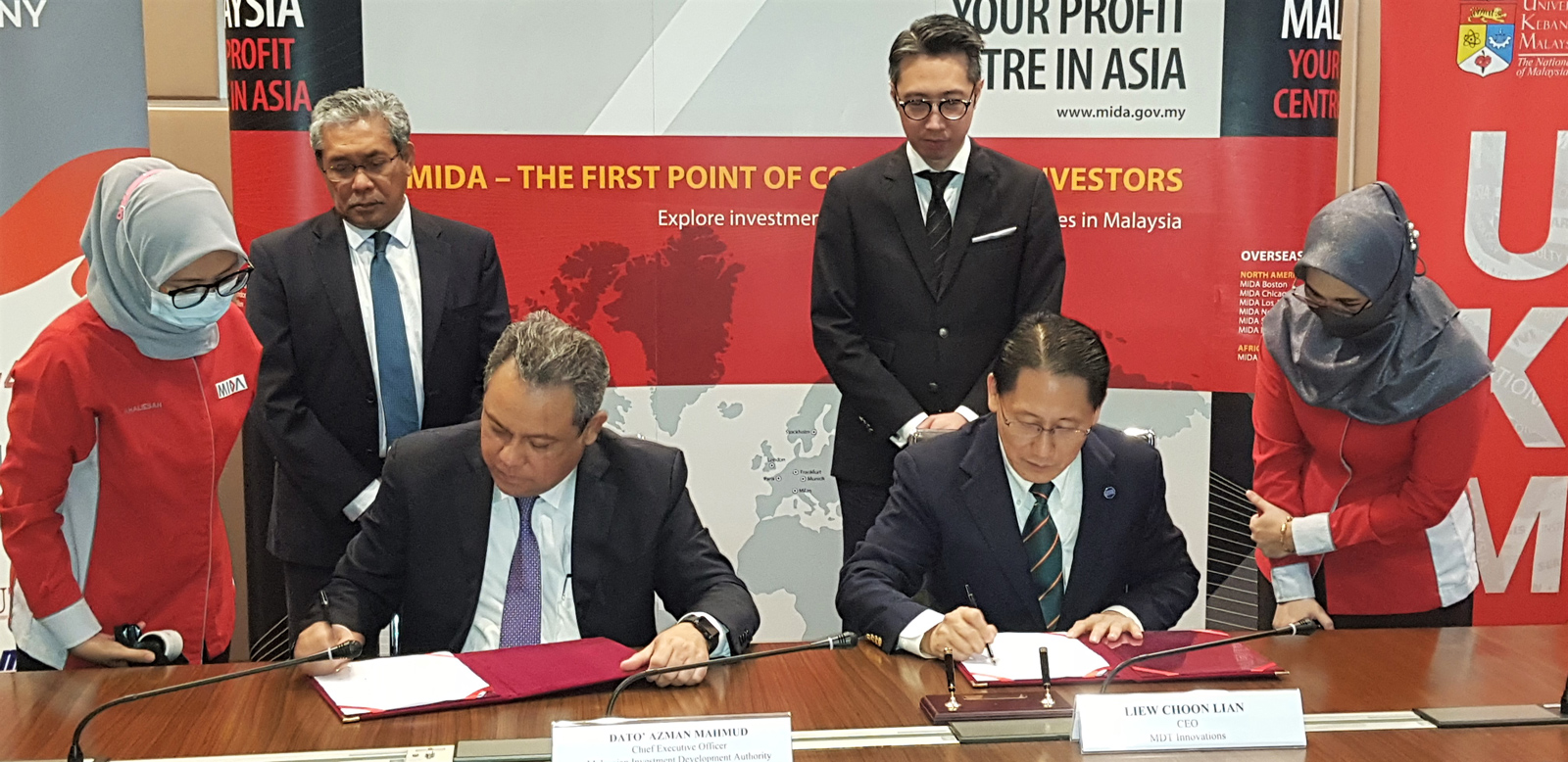 Dato' Azman Mahmud, CEO of MIDA and Mr Liew Choon Lian, CEO of MDTi signing the Memorandum of Understanding.
"We are very excited about this arrangement with MIDA to work on MADC's HyTalent as it would enable both parties to leverage on each other's strengths to bring growth to, and equip youth with the tools they need to succeed in future. As technology is a fast-paced industry we are well-versed in, this strategic partnership will strengthen MDTi's presence in the IoT front," shares Liew Choon Lian, Group Chief Executive Officer at MDT Innovations Sdn Bhd.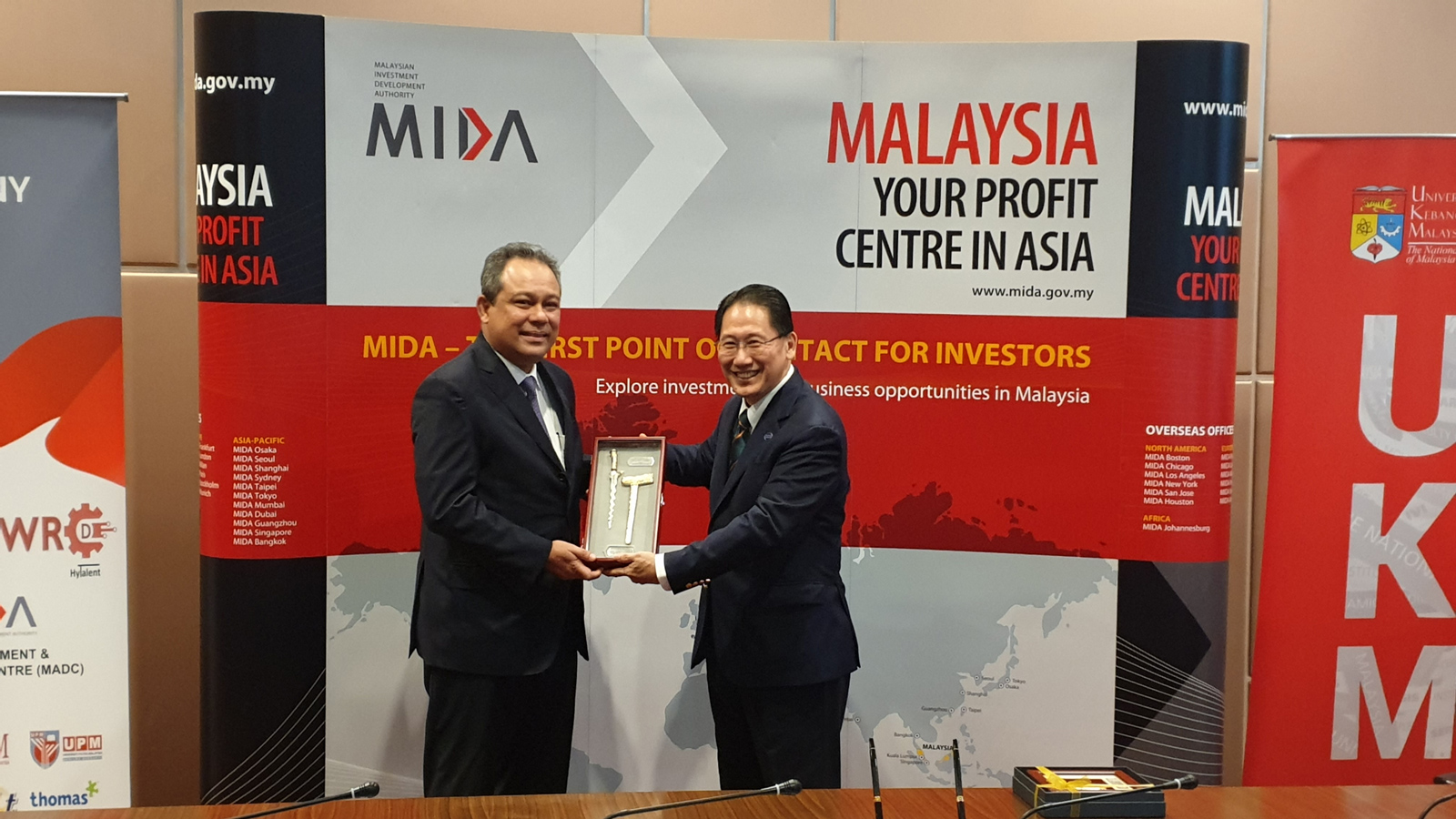 Dato' Azman Mahmud presenting a token of appreciation to Mr Liew Choon Lian.
Dato' Azman Mahmud, CEO of MIDA explains, "I believe this partnership will allow us to elevate talents across Malaysia and in turn, our technological offerings, enabling us to reach more businesses and consumers worldwide. Working alongside a big player in the IoT industry, we look forward to the success of MADC's HyTalent, and more impressive developments in the near future."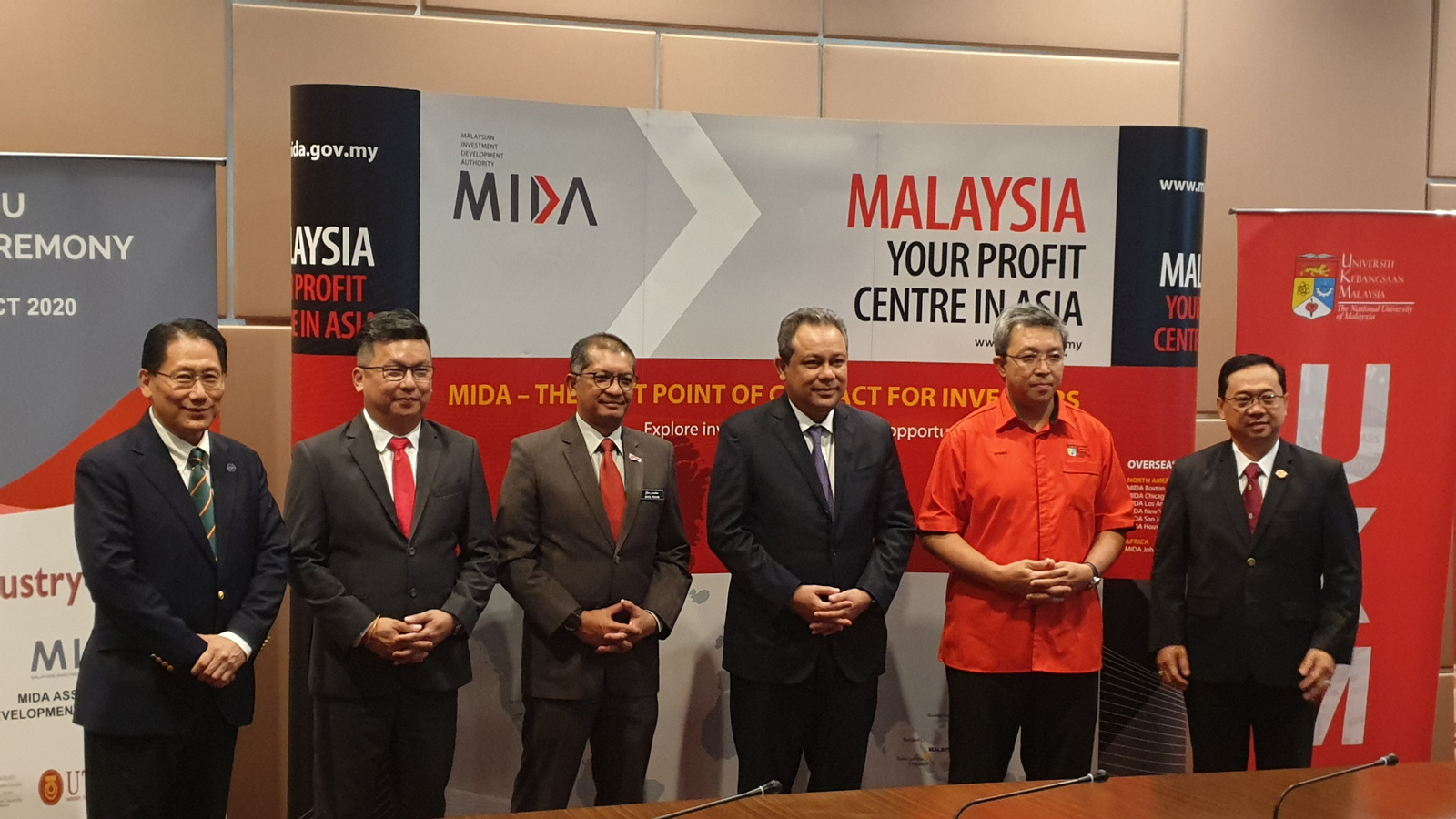 Mr Liew Choon Lian (leftmost) and Dato' Azman Mahmud (3rd from right) with representatives from Siemens Malaysia Sdn Bhd and 3 universities.
MADC has proposed the development of HyTalent to embrace the rapid changes of Industry 4.0. It intends to progress the nation's workforce by equipping fresh graduates with the digital knowledge required for the optimisation of industrial productivity. It also aims to provide youth with a structured and practical development approach, real-life work experience, data-driven skills, leadership skills, technical skills in Industry 4.0, a platform to showcase these skills and knowledge, and develop them as talents for the new norm in embracing Industry 4.0. The strategic partnership will see MIDA working on MADC's HyTalent programme with MDT Innovations (MDTi), Siemens Malaysia Sdn Bhd, Universiti Kebangsaan Malaysia (UKM) in Bangi, Selangor, Universiti Teknologi Malaysia (UTM) in Skudai, Johor and Universiti Putra Malaysia (UPM) in Seri Kembangan, Selangor.
– END –
About MDT Innovations Sdn Bhd
MDT Innovations (MDTi) is one of the fastest growing deep tech companies in Asia Pacific focusing on IoT (Internet of Things), cybersecurity and digital ID. The company's underlying strength is fundamentally in its 38 intellectual properties in areas such as miniaturization, low energy, wireless design, and neural networks. These drive MDTi's competitive advantage in areas of intelligent wireless communications, computer vision, as well as artificial intelligence for education, manufacturing, retail, government, and aviation. The immense excitements of IoT and Industry 4.0 mega trends has further put MDTi in the spotlight through its standout engineering achievements in the development of world smallest NFC module, MD770R, NFC in SIM Card, and LINOTAG which uses yarn as transmitting antenna. MDTi's solutions in crowd movement, work in progress automation, and smart retail solutions are found in Fortune-500 semiconductor firm and retail chains in China, Malaysia, and Australia. Profitable since its inception, MDTi has seen tremendous growth in export sales, where it has grossed more than a billion of accumulated sales to date. As of 2018, 98% of total revenues are contributed by export sales, which is evidence of MDTi's successful international presence.
About MIDA (Malaysian Investment Development Authority)
Incorporated in 1967 as a statutory body under the Malaysian Industrial Development Authority (MIDA) Act, it was hailed by the World Bank as "the necessary impetus for purposeful, positive and coordinated promotional action" for Malaysia's industrial development. Today, MIDA is the country's cutting-edge, dynamic and pioneering force in opening pathways to new frontiers worldwide. Assisting and facilitating projects by companies which are intent on investing in the manufacturing and services sectors, MIDA's services include information on investment opportunities and joint ventures. MIDA works with representatives of key government agencies such as the Department of Labour, Immigration Department, Royal Malaysian Customs, Department of Environment, Tenaga Nasional Berhad and Telekom Malaysia Berhad, to advise investors on government policies and procedures. Manufacturing projects and its related service sectors are evaluated by MIDA in terms of licenses, tax incentives, expatriate posts, duty exemptions on raw materials/ components and duty exemptions on machinery/ equipment for the agricultural sector and selected service sectors. Investors are encouraged to discuss their project interests with MIDA and visit MIDA's Business Information Centre (BIC) to check out published information on investment, trade, financing and productivity pertaining to the manufacturing and services sectors.
For more enquiries, kindly contact us at:
Stephanie Chung
Senior Manager of Special Projects & Corporate Affairs
MDT Innovations Sdn Bhd
chung@mmdt.cc
017-341 2949
Jeswena Kaur
Assistant Manager, Business Development
MDT Innovations Sdn Bhd
jeswena@mmdt.cc
012-348 4897