MDT Innovations Awarded 'Digitalisation Advocate' by MATRADE
The Internet of Things (IoT) enabler was recently presented with the 'Digitalisation Advocate'
title by the Malaysia External Trade Development Corporation (MATRADE).
KUALA LUMPUR, 20th December 2021 – MDT Innovations was honoured with the 'Digitalisation Advocate' accolade in conjunction with the Mid-Tier Companies (MTCs) CEO Summit 2021 – the first hybrid event by Malaysia External Trade Development Corporation (MATRADE) aiming for CEOs of MTCs to meet, network and share ideas. Attracting over 300 CEOs from various sectors, its theme, "Charting the Course for Export Growth" aims to strategise export plans based on latest trends, key developments and new opportunities in global markets.
CEO of MDT Innovations (MDTi), Liew Choon Lian graced the event with his presence to receive the accolade. "We had a productive year despite the pandemic; however, the vaccination rollout has allowed us to go the extra mile in pursuing growth. We're honoured by the recognition and we look forward to continue innovating towards economic recovery, in-line with market trends and industry standards," he shares.
"As the economy begins to rebound from the downturn due to the pandemic since last year, Malaysian businesses, especially the MTCs need to push the extra mile to grow beyond all limits and boundaries," says Chief Executive Officer of MATRADE, Mohd Mustafa Abdul Aziz. He added that MTCs should be leaders in setting the path towards economic recovery by being agile in keeping up with the demands and market trends, adhering to industry standards and strategising effectively in the quest for internationalisation.
CEO of MDTi, Liew Choon Lian accepts Digitalization Advocate award from MATRADE CEO, Mohd Mustafa Abdul Aziz.
The Summit featured a 'CEO Conversation' session whereby 3 MTCs under the Mid-Tier Programme discussed the topic "Surviving the Crisis: Seeking the Light at the end of the tunnel". MATRADE then honoured those which have excelled in exports, driven innovation and successfully developed outstanding business initiatives. It recognised MTCs based on categories such as 'Sustainable Advocate', 'Digitalisation Advocate', 'Automation Advocate', 'Business Agility Advocate' and 'Leadership Advocate'. The event also acknowledged contributions by next generation MTC leaders through 'Rising Star' and 'The Unsung Hero'.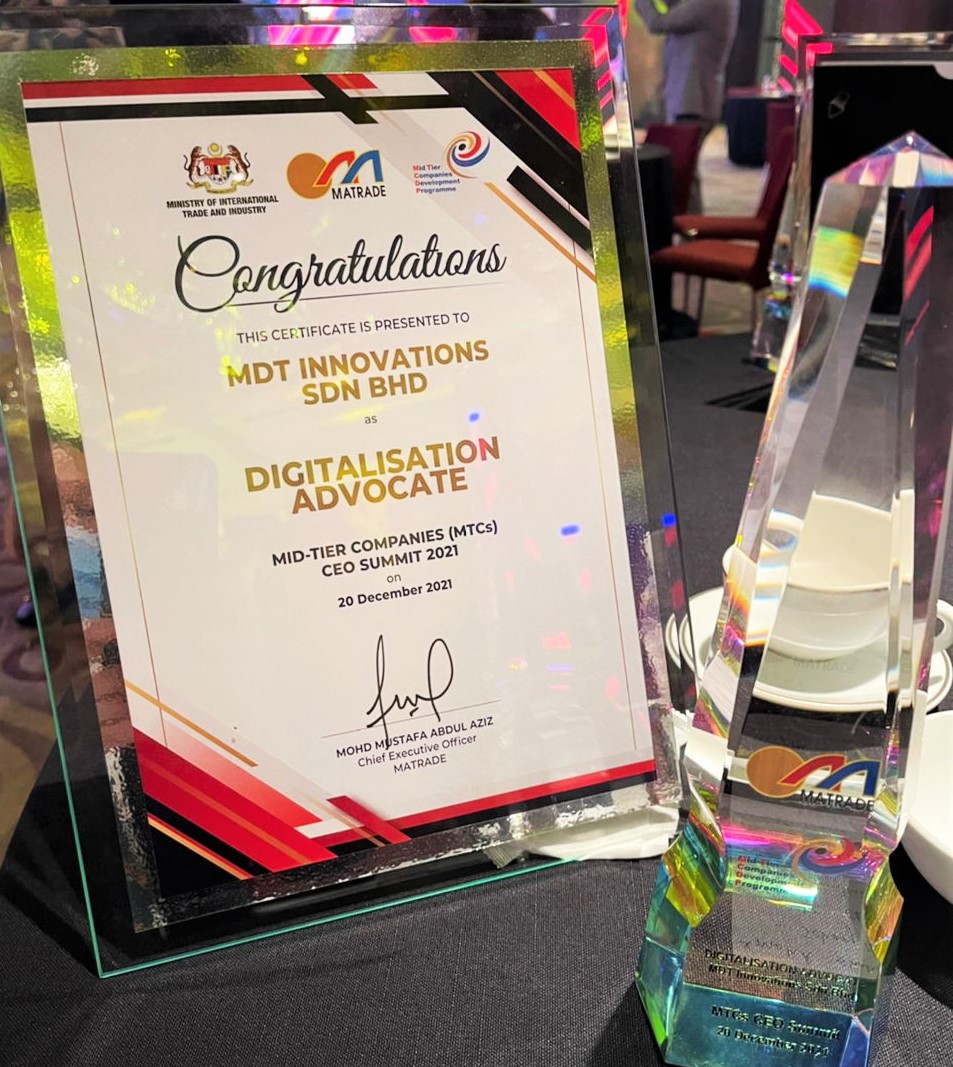 The Digitalization Advocate award presented by MATRADE to MDTi.
Mid-Tier Companies Development Programme (MTCDP) started in 2014 as a high-impact initiative by the Government in Malaysia's Development Plan, aimed to accelerate the export growth of MTCs regionally and globally. MATRADE has successfully groomed 275 MTCs since 2014. In 2020, despite challenges posed by the pandemic, the export revenue of MTCs reached RM15.4 billion – an increase of almost 4% compared to 2019. Under the 11th Malaysia Plan, MTCs have recorded a cumulative increase in exports at RM5.5 billion, exceeding by 45% over the target KPI of RM3.8 billion.
In line with the 12th Malaysia Plan, MATRADE will continue the Mid-Tier Companies Development Programme (MTCDP) to create more export champions and support ongoing efforts by the Government in regenerating the Malaysian economy, driving growth in new sectors and ensuring socio-economic inclusiveness and sustainability. The MTCDP targets MTCs with annual revenues between RM50 million to RM500 million for manufacturing companies and RM20 million to RM500 million for services companies. Interested companies are encouraged to contact midtier@matrade.gov.my for more details.
About MDT Innovations Sdn Bhd
MDT Innovations (MDTi) is one of the fastest growing deep tech companies in Asia Pacific focusing on IoT (Internet of Things), AI (artificial intelligence), fintech, and digital ID. The underlying strength of the company is fundamentally supported by 38 intellectual properties in areas such as miniaturization, low energy, wireless design, and neural network. These drive competitive advantage of the company in areas of intelligent wireless communications and computer vision for key verticals such as education, manufacturing, retail, government, and aviation. MDTi's key focus in R&D has created numerous standout engineering achievements mainly in the development of MD770R, the world smallest NFC module, NFC in SIM Card, and LINOTAG which uses yarn as transmitting antenna. The immense excitements of IoT and Industry 4.0 mega trends has further propelled MDTi. The company's solutions in crowd movement, work in progress automation, and smart retail solutions are found in Fortune-500 firms and retail chains in China, Malaysia, and Australia. The company has been profitable since inception with tremendous growth especially in exports and has grossed more than 2 billion Ringgit in accumulated export sales to date. It has also enjoyed up to 40% year on year growth and this is a solid evidence that the company is making many international successes. 3rd party recognitions include International APICTA, Red Herring Global 100, Gartner's Cool Vendor 2015, APAC CIO Magazine's Top 25 IoT Solution Providers, Frost and Sullivan Best IoT for Asia Pacific 2018, ASOCIO ICT Global Icon Award, and Deloitte Technology Fast 500 Asia Pacific (ranked 12th) awards are some of the notable testaments.
About MATRADE
The agency was established under the MATRADE Act 1992 in March 1993 as a statutory agency and external trade promotion arm under the Ministry of International Trade and Industry Malaysia (MITI). MATRADE's mission to promote Malaysia's export has enabled many local companies to carve new frontiers in global markets. Today as it continues to put the spotlight on capable Malaysian companies on the international stage, it is helping make the phrase 'Made-In-Malaysia' synonymous with excellence, reliability and trustworthiness. MATRADE is also the owner and operator of the MATRADE Exhibition and Convention Centre (MECC) which was opened on January 2007. YBhg. Tan Sri Dr. Halim Mohammad is the current Chairman of MATRADE effective 1st January 2019.
For more enquiries, kindly contact us at:
Jeswena Kaur
Manager, Business Development
MDT Innovations Sdn Bhd
jeswena@mmdt.cc
012-348 4897