SMALL CHIPS, ENORMOUS SUCCESS
By MSC APICTA Published in MSC APICTA 2009 booklet at page 8 and page 9.
MDT Innovations is pushing boundaries by trying to fit RFID technology into our daily lives at a low cost, and its plan seems to be working well.
Since its establishment in 2004, MDT Innovations (MDTi) has been constantly scaling new heights in technological innovation. The subsidiary of Multimedia Display Technologies is a specialist in RADIO frequency identification (RFID) technology and is involved in the design, development, manufacturing, prototyping and support services of RFID products. Today, MDTi is a global player with offices in Malaysia, the United States, Japan, Taiwan and China.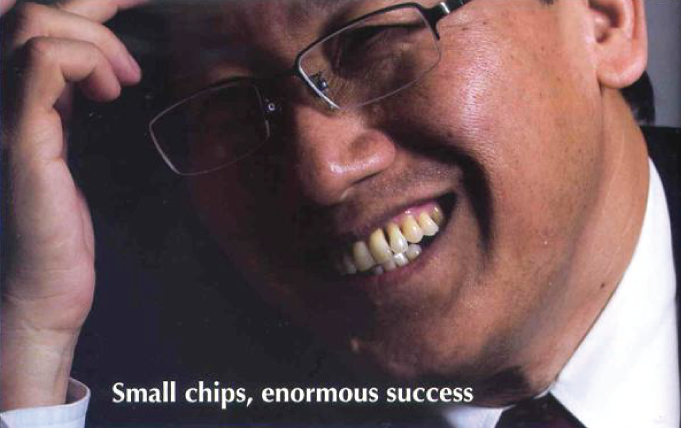 In 2005, the company was accorded the prestigious MSC status. It went on to win the Prime Minister's "Best of The Best" Award at the 2007 APICTA. And the latest feather in its cap was the Red Herring Global 100 Top Global Company received in San Diego, California in January this year joining the likes of Yahoo!, Google, Skype, Youtube and Qualcom.
MDTi chairman and chief executive office Liew Choon Lian explains that the logic behind venturing into the RFID industry was the massive expansion and potential in this technology. RFID was also a natural choice as this enabled MDTi to expand and capitalise on the expertise of its parent company, Multimedia Display Technologies, which is involved in the advanced display technologies field.
Liew was certain that RFID was to be the next big thing in the 21st century, thus MDTi's decision to venture into it long before larger corporations did. This allowed it a head-start in rolling out new and exciting RFID technology. MDTi's vision of things to come and its decision to quickly act upon it has allowed the company to maintain its competitive edge, this despite the tough fight from companies in advanced economies like Germany and US.
RFID is a technology that utilises radio waves to identify objects, How does it works? A minute chip containing a unique ID is attached to an antenna. Together, this device, called an RFID transponder or RFID tag is used to transmit data using radio waves to a Reader. The Reader then converts the information received to a format that is understood by a computer.
Examples RFID applications that MDTi has developed include access control, asset management, university convocation system, laundry and apparel tracking, vehicle identification, document tracking, warehouse management system and human tracking to name a few.
RFID is seen as a revolutionary technology as the Readers are immediately able to pick up data transmitted from chips without actual contact. This enables people to identify, authenticate, monitor and manage items or objects, humans and animals with high speed and accuracy. For example, if one to were to use barcode system, scanning 1,000 items would take far longer than using RFID technology because each item needs to be scanned individually. In contrast, the 2.45GHz RFID reader for example is able to read 100 chips simultaneously with a one in 10 million chance of error.
MDTi has found enormous success by designing an ultra small, ultra low-cost high frequency (13.56 MHz) RFID module at 1/15 the cost of the nearest competitor. "Being able to develop a RFID reader at such a low cost has enabled us to overcome the main obstacle saddling the RFID industry," says Liew.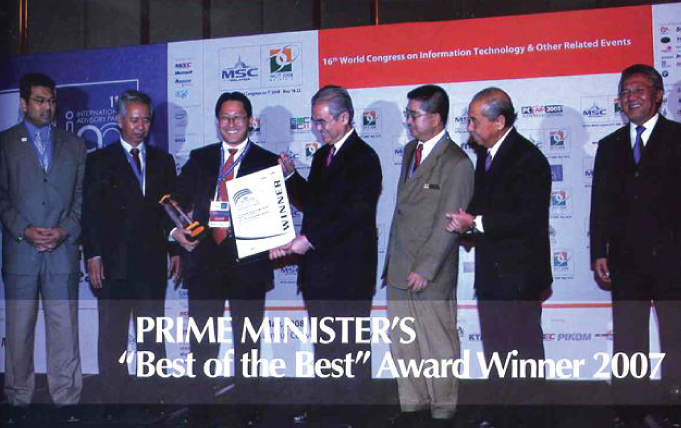 The reasons MDTi is able to achieve cost savings at such levels is because the company designs and prototypes the core components of RFID systems on its own, instead of using third part components. And this can be done, thanks to its vast experience in the RFID field. What's more, MDTi runs a very lean operation (consisting of 10 engineers) and this enables the company to pass on the cost-saving to customers.
Although measuring only 9×9 mm, the RFID module, codenamed MD770R, still incorporates all the advanced features and performance of a typical desktop RFID reader. The major innovation of this product is its non-ASIC based design and the adoption of MDTi's unique algorithm that substitutes several major passive electronic components, which eventually lowers the bill of material cost and also the shrinks the foot print of the module. This makes it possible for the RFID Readers to be much more mobile when compared with previous Readers which were the size of an ADSL modem. It now means that RFID Readers have the potential to be integrated into mobile phones and PDAs, thus opening up a whole new marketable sphere which was relatively untouched prior to this. This great technology is now being patented in Japan, China and Malaysia.
The MD770R won the Prime Minister's "Best of The Best" Award at the 2007 APICTA, and for general manager Sim Hon Wai, winning the award was a milestone that gave the company due recognition for a product that had pushed the boundaries of RFID innovation. This was in addition to the boost received in terms of publicity. Sim says the award clearly showed the support of Multimedia Development Corporation (MDeC) in promoting Malaysian technologies to the world by recognizing outstanding companies and products.
Although already a leader in producing low-cost, high performance RFID Readers, MDTi has no intention of resting on its laurels and is seen continuing developing new products, such as the chipless RFID tag that is set to significantly lower cost of RFID products. And its clients come from all over the world. After pioneering in the 2.45GHz RFID Reader, MDTi is now a leading provider of high frequency and ultra high frequency RFID solutions with satisfied customers in Japan, China, India, Indonesia and the US, also in its base in Malaysia.
Besides being involved in RFID products, MDT group of companies is also looking into development of a unique, low-cost solar energy panel. These panels will take the form of thin solar sheets which can be pasted on roofs and walls to absorb solar energy to produce energy that rivals conventional electricity. Liew, who is personally involved in its development, envisages a product that will be able to break though the cost barrier and thus be made available to consumers on almost all levels of society.
The original article was published in MSC APICTA 2009 booklet