MDT INNOVATIONS BAGGED THE ASEAN ICT GOLD AWARD IN BEST OF PRIVATE SECTOR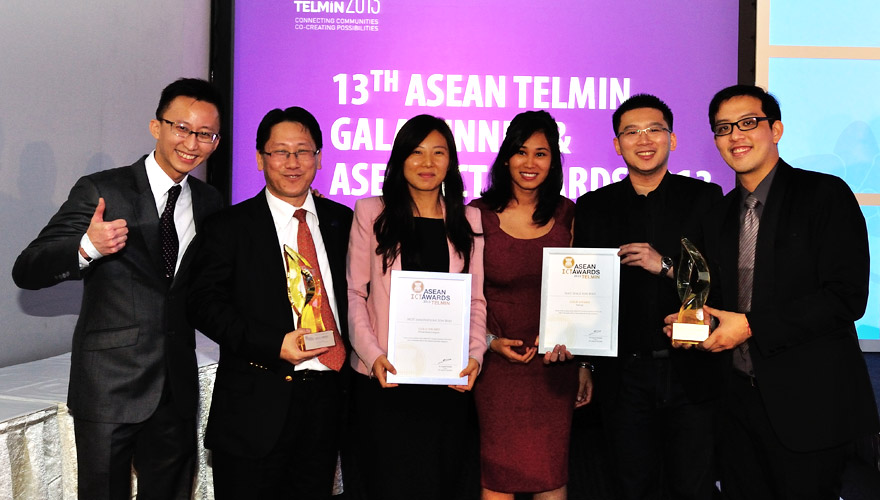 The winner for Best Private Sector, MDT Innovations Sdn Bhd
Singapore, November 14 2013 – The ASEAN ICT (AICTA) 2013 was held at Gardens by the Bay Singapore saw MDT Innovations bagging the Gold Award in Best of Private Sector Category, overcoming 2 other products, One Changi and Cargo Optimisation Enterprise by Changi Airport Group Pte Ltd and Dreamsoft Optimization Ltd respectively.
MDT Innovations' submission – NFC Tag in SIM Card, Empowering All Phones to Become NFC Tag emerged as clear winner during its judging process held in Myanmar recently. AICTA is an event jointly organized by ASEAN Telecommunication Ministers, in line with six Strategic Thrusts, Innovations as stated in the ASEAN ICT Masterplan (AIM) 2015 under the initiative 3.2 'Promote Innovation and collaborations amongst government, businesses, citizens and other institution'. The AICTA is an emerging regional ICT platform recognising the best ICT achievements among entrepreneurs across the ASEAN region. AICTA aims to be the benchmark for success in terms of innovation and creativity, offering business opportunities and promote trade relations thus uplift the strength of ICT and community awareness in ASEAN both locally and international region.
MDT Group Chairman & CEO, Mr. Liew Choon Lian who made the presentation and demonstrated the product during the final judging at Rangoon, Myanmar on March 2nd, 2013, represented MDT Innovations to collect the trophy and certificate in the prestigious Award Ceremony held in Singapore. The event also saw Malaysian startup Softspace Sdn. Bhd. winning Gold Award for Best of Start-up Category, while other categories were Best of Public Sector, Best of Digital Content, Best of Corporate Social Responsibility, and Best of Research & Development, won by highly deserving companies in the ASEAN region.
"Again, we have proven that we had a high performance, innovative product designed for the mass market over the next decade, by winning at Malaysia local level, ASEAN level, and Asia Pacific level, in the same year, all of which were the gold medals/winners", commented Mr. Liew of MDT Innovations Sdn Bhd.
The AICTA awards is a platform for recognising the best achievements by information & communication technology (ICT) entrepreneurs in the region across six categories – Public Sector, Private Sector, Digital Content, Corporate Social Responsibility, Start-up, and Research and Development. The awards also aim to create a certain benchmark for innovation and creativity. To read more about AICTA, click here to visit