MDT INNOVATIONS SDN BHD CAPTURES THE PRESTIGIOUS INTERNATIONAL APICTA AWARD 2013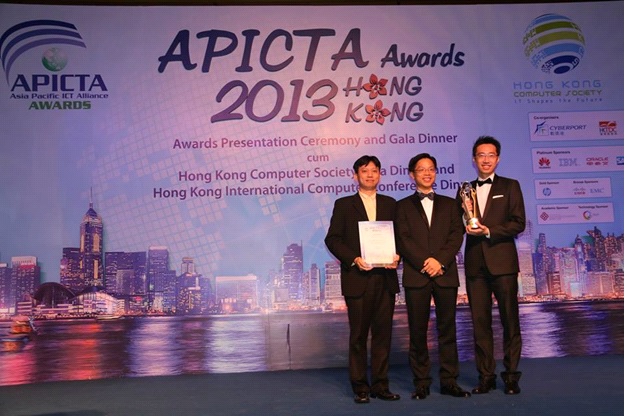 MDTI's Sim Hon Wai (right) and Yap Wei Loong (left) receiving the awards from Mr. Michael Leung, President of Hong Kong Computer Society (centre)
Hong Kong, 27 November 2013 – The international APICTA Award Ceremony 2013 was held in a glittering black tie event at Hong Kong Convention Center, attracted 220 nominations from 13 countries in the Asia Pacific. Malaysia delegation led by MDeC submitted a total of 31 nominations in 17 categories. P.R. of China and Chinese Taipei are the new economies that joined this year's APICTA.
"The panel of judges recognized not just the creativity and innovation of our product, but the market potential which we believe will benefit hundreds of millions of users around the world when NFC SIM Cards become widely used in the near future," commented Mr. Liew Choon Lian, Executive Chairman of MDT Group of Companies. "Credits go to the product planning, R&D, and the engineering teams".
MDT Innovations was among the three grand winners from Malaysia, capturing winner's trophy in The Communications category. Its solution "Near Field Communications (NFC) in SIM Card, empowering all mobile phones to become NFC Tags" was a clear winner that paves way for greater adoption of mobile wallet system.
"This win means more to us than just a recognition platform. It will inspire us to keep creating and inventing, while strengthening and diversifying our solutions and offerings. This is a win for Malaysia and we hope to provide the inspiration and motivation for other Malaysia businesses to achieve more international recognitions in the future," said MDT Innovations general manager, Sim Hon Wai quoted by Computerworld Malaysia (http://www.computerworld.com.my/resource/applications/malaysian-innovators-win-at-apicta-finale-in-hong-kong/) Group Chairman Mr. Liew Choon Lian was delighted with the latest achievement. This is a meaningful addition to the company after collecting the ASEAN ICT Award himself in Singapore recently on November 14th, 2013.
Other notable winners from Malaysia are Fusionex Corp Sdn. Bhd. and Movertech Sdn. Bhd. Malaysia also captures 4 merit awards in the same night. The event, was organised by Hong Kong Computer Society (HKCS), Cyberport and the Hong Kong Trade Development Council (HKTDC) with the support of Innovation and Technology Commission. The gala dinner was graced by Mrs. Carrie Lam, Acting Chief Executive of Hong Kong SAR and the event ended with Pakistan being announced as host country for 2014 International APICTA.