MDT INNNOVATIONS RECEIVED ITS 6TH AND 7TH APICTA AWARD IN THE 14TH EDITION OF MSC APICTA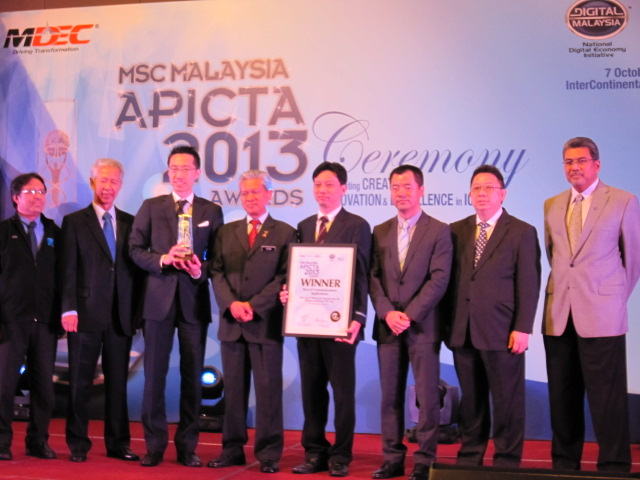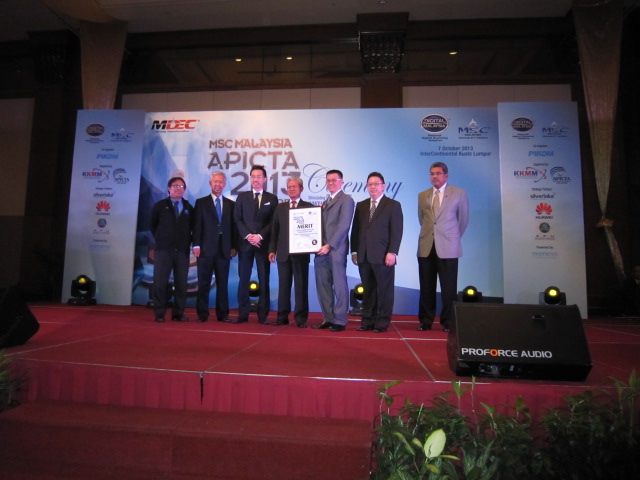 Kuala Lumpur, 7 October 2013 – The coveted 'Oscar of Malaysian ICT Industry' the MSC Asia Pacific ICT Award was held in Intercontinental Hotel today, celebrating its 14th year. 19 categories were contested in the span off 2 months in a joint-effort by Multimedia Development Corporation (MDeC) and Association of the Computer and Multimedia Industry of Malaysia (PIKOM).
MDT Innovations won its 6th and 7th APICTA award in history taking home winner's trophy for Best of Communications Applications Category and merit award for Best of Application and Infrastructure Tools. General Managers Mr. Sim Hon Wai and Mr. Yap Wei Loong represented MDT Innovations on stage to receive the winner's award trophy and certificate. Mr. Sim and Deputy General Manager Mr. Lam Chee Yoong represented the company to receive the merit award.
"The MSC Malaysia APICTA Awards recognises the outstanding achievements of individuals, students, entrepreneurs, SMEs and organizations who have directly and indirectly contributed to the development of MSC Malaysia initiatives," said YBhg. Datuk Che Azemi Haron, Deputy Secretary General II, Ministry of Communications & Multimedia.
In Best of Communications Applications Category, MDT Innovations was a clear winner with NFC Tag in SIM Card, Empowering All Phones to Become NFC Tag. This product won praises from judges with its ultimate innovation on NFC and mobile phone whereby it focuses on embedding NFC tag into a SIM (subscriber identity module) card, effectively known as NFC-SIM. NFC-SIM contains an on-board antenna, draws electricity and communication interface from any mobile phone's UICC slot to become an NFC tag despite being obstructed by phone's battery and metal casing. This is the most difficult and challenging part faced by even the largest semiconductor companies and mobile device manufacturers in the world.
Meanwhile, Intelligent Impact Monitoring System won the merit award, recognizes its achievement in deploying wireless MEMS (micro-electronic machines) in logistic and supply chain environment. The deployment of battery powered multi-sensors device with accelerometer as backbone sensor provides big data to users to gauge the safety levels of their working environment.
"We are extremely proud to win multiple APICTA Awards again despite very fierce competition from many outstanding participants. I appreciate the hard work from MDTI staffs especially the leader Sim Hon Wai who again did an extraordinary job this year." , commented Mr. Liew Choon Lian, the Group Chairman, who was also present at the award ceremony.
Winners of MSC Malaysia APICTA Awards 2013 will represent Malaysia at the International APICTA Awards, which will be held in Hong Kong from 25th to 27th November 2013. The Best of the Best Prime Minister Award was not announced today, pending schedule from Prime Minister YAB Datuk Seri Najib Tun Razak.