MDT INNOVATIONS RECEIVES SPIRIT OF INNOVATION AWARD AT APELA 2013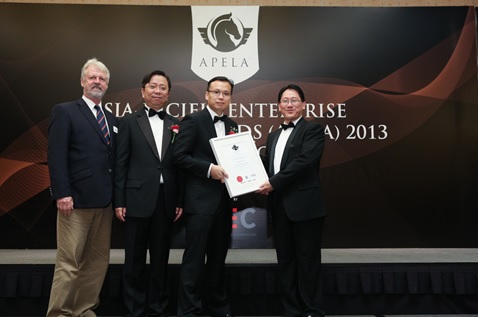 Singapore, 14 March 2013 – The inaugural Asia-Pacific Enterprise Leadership Award (APELA) 2013 was held today where 48 companies were presented with awards at a prestigious black tie event. MDT Innovations through its chairman Mr. Liew Choon Lian is one of the recipients for the Spirit of Innovations Award. Among the key criteria in determining the success of MDT Innovations are the nature of company's innovation, how innovations are discovered, the novelty of innovations, the value of the innovations, the future of the innovations, and among others.
Liew Choon Lian is recognized as the key person in the company that drives the innovations of NFC in SIM Card technology, which draws admiration from the participants, and the panel of judges at AP-EC.
As one of the most prestigious regional awards in the Asia-Pacific region, the Asia-Pacific Enterprise Leadership Awards (APELA) 2013 – International recognize and honors the achievements of Enterprise Leaders who are "Doing Good" by bringing together some of Asia-Pacific best leadership examples in the areas of sustainable development, corporate responsibility, and/or corporate social responsibility (CSR). Organised by the Asia-Pacific Enterprise Cooperation (AP-EC) and supported by governments in collaboration with local enterprise and businesses, APEC aims to band together leading business leaders across the region to spur on greater innovation, fair business practices and economic growth, creating a business social platform for opportunities and collaboration of ideas.
The Awards were opened to 16 Asia-Pacific territories that include Australia, Brunei, China (including Hong Kong and Taiwan), India, Indonesia, Japan, Malaysia, New Zealand, Philippines, Singapore, South Korea, Sri Lanka, Thailand, and Vietnam. Over 155 nominations from across the region were received, that was evaluated by the AP-EC International Judging Panel present at the Awards. The Interim Chairman for AP-EC, Mr. Alex Wong was quoted "APELA award winners present today represent some of the most responsible companies, and they have come a long way, as with their sustainability journey".
"I am very pleased and honored that MDT Innovations Sdn Bhd is among the award winners which included some of the world class companies in their respective fields such as Coca Cola Far East, Tokyo Marine from Japan, Procter & Gamble, Westpac Bank, Vale Minerals, Jindal Saw of India, Far Eastern Group of Taiwan, AkzoNobel Paints, Monsanto, CIC Agri Business of Sri Lanka, PTT Global Chemical of Thailand, Hutchison Ports Holdings, and Tata Power Co., Ltd. ", commented Liew.