MITI AWARDS INDUSTRY EXCELLENCE AWARD TO MDT INNOVATIONS
Kuala Lumpur, October 24 2012 – Ministry of International Trade and Industry held the industry Excellence Gala Award at KL Convention Center and MDT Innovations is awarded with the Export Excellence Award for the category of ICT Services Sector. The ceremony was held in a prestigious black tie affair in which guest of honour Deputy Prime Minister of Malaysia Tan Sri Muhyiddin bin Yassin presented the award to chairman Mr. Liew Choon Lian.
The Industry Excellence Award (AKI) is in its 21st edition this year was launched by the government to recognise outstanding performance by Malaysian companies and entrepreneurs. To qualify for this award, companies must be at least be 51% Malaysian owned, and have exports sales of minimum 3 years. With MDT Innovations impeccable export sales record in 2010 and 2011, the company is among the top winners of the night.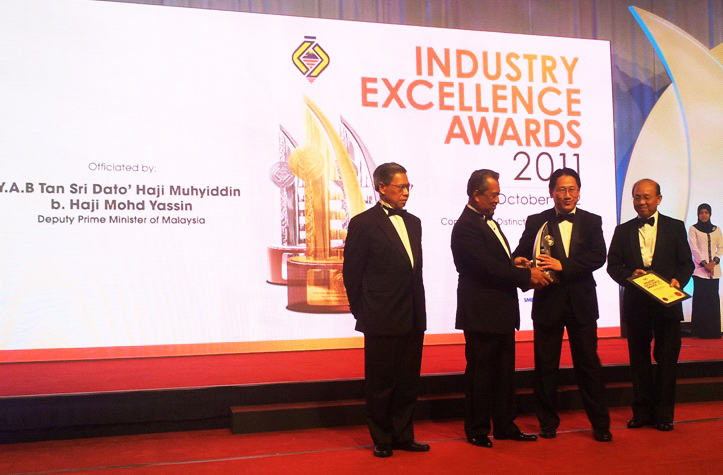 "Just about a week ago, MDT Innovations won its fifth MSC Asia Pacific ICT Alliance Award trophy. I am delighted to add this prestigious AKI award tonight and it marks another major milestone for the company. I would like to congratulate MDT Innovations' management team and staffs for their hard work and dedication all these years in expanding our export sales to many continents.", commented by its chairman, Liew Choon Lian.
MITI's overall objective is to increase competitiveness of the Malaysia economy and Malaysian businesses and this program has shown that many home grown companies are able to compete at the highest level in the international market place. The winners tonight deserve the recognition from the government and people of Malaysia.