MDT INNOVATIONS WINS ITS 5TH TROPHY IN THE 13TH EDITION OF MSC APICTA AWARD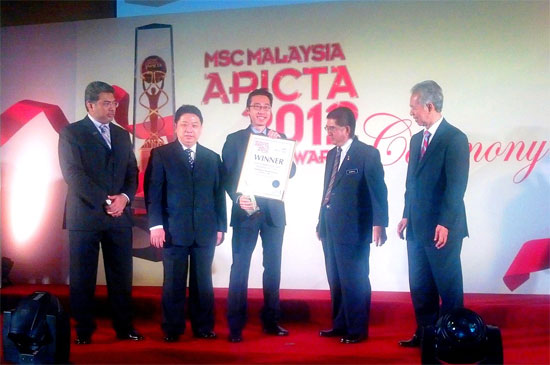 Kuala Lumpur, October 16 2012 – MDT Innovations is awarded with a winner's trophy in MSC Malaysia Asia Pacific ICT Alliance Award jointly organised by MDeC and PIKOM at Sime Darby Convention Center today.
MDT Innovations is declared winner in The Best of Applications and Infrastructure Tools, its fifth APICTA trophy in which 4 of them were received in APICTA 2007 including the Prime Minister Best of The Best Award.
Representing MDT Innovations on stage was general manager, Mr. Sim Hon Wai who also led the product development of this application. Minister of Science Technology and Innovation, Datuk Seri Panglima Dr. Maximus Johnity Ongkili was the guest of honour presenting the winner's trophy and certificate.
Under the theme Stimulating Creativity, Innovation & Excellence n ICT, MDT Innovations winning product is Ubiquitous Monitoring of Trolley (UMOT), an intelligent real-time location base track and trace system for shopping trolleys and provides relevant analytics within the supermarkets and its chains. UMOT comes with hardware devices such as UEMD (Ubiquitous Electronic Monitoring Devices) and UEMR (Ubiquitous Electronic Monitoring Reader) to create an infrastructure to provide real time monitoring in a geographical area typically within 250,000sqm to 500,000sqm. UEMD is a cylindrical monitoring device that can be seamlessly inserted into trolley's handle and responds to wireless heartbeat query within a private 2.4GHz network via sets of UEMRs to determine its location and other analytics, operated by UEME.
"I am very pleased that MDTI is awarded with yet another APICTA Award in a deserving way. I am proud of the entire team and we are grateful to Pikom, MDeC and the panel of judges for their continued guidance and professional support.", commented Mr. Liew Choon Lian, Chairman & CEO of MDT Group of Companies.
Winners of MSC Malaysia APICTA Awards 2012 will represent Malaysia at the International APICTA Awards 2012, which will be held in Bandar Seri Begawan, Brunei Darussalam from Dec 2 to 5 2012.
This award adds another feather to MDT Innovations' cap, which has previously received other prestigious awards such as Red Herring Global, Deloitte Fast 500 Award, and Naseba Asia Thought Leader Award in Science and Technology.