MDT INNOVATIONS LOOKS AHEAD BIG TIME
Written by Charles F. Moreira Published in COMM&TECH.ASIA on Tuesday, 29 September 2009 00:23
MSC Malaysia status radio frequency identification (RFID) solutions developer, MDT Innovations looks forward to become a multi-billion US dollar company if the deals it's working on go through.
Its core business is in the design, development, prototyping, manufacture, applications development, sales & marketing, maintenance and support services of RFID and high-technology information products, key components, critical parts and advanced display products.
Its major customers so far include Matsushita, NEC/MIT, Asahi, Totoku, Sotec, Trigen, Samsung, Proview/MAG, GVision, ComeMon/Cyco, KSI, ADI, Diva Labs, Miro, Konka, Likom, Telekom Malaysia, Radio Televisyen Malaysia, MINDEF (Ministry of Defense, Malaysia), Topre, Aspec and Powerview Technics.
"We expect our BHR300 Bluetooth HF Reader alone to bring us US$100 million worth of sales over the next two years, whilst we are currently working on an RF-SIM (radio frequency-SIM) for a multi-billion US dollar project in collaboration with one of the world's largest mobile phone companies," its chairman and chief executive officer, Liew Choon Lian told Comm & Tech Asia at its office in Technology Park Malaysia on 18 September.
However, he could not disclose its identity, since negotiations are still underway.
The BHR300 is a battery powered, RFID reader module with USB 2.0 & 1.1 as well as Bluetooth 2.0 connectivity to a PC or smartphone.
It has a built-in antenna and works with industry-standard – i.e. ISO, IEC and Mifare RFID tags, and other compatible tags at 13.56MHz at short range of over 4cm for security, whilst its Bluetooth range is up to 100 metres, which enables it to be used in handheld or portable applications, such as ticketing, public events and so on.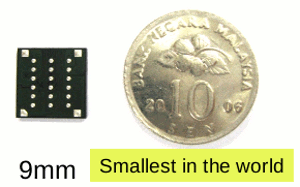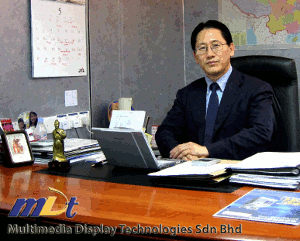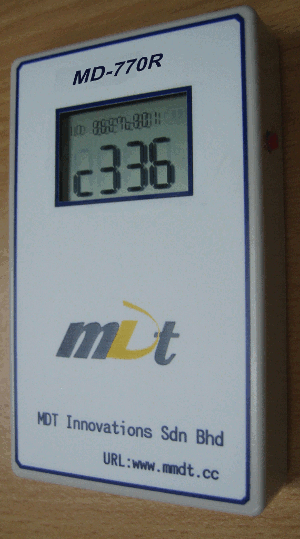 "A well-know mobile phone company asked us to develop the BHR300 to authenticate its genuine products from the fakes in retail outlets in real time and this has a potential sale of 10 million units," said Liew. "We're also talking with another popular smartphone maker which has asked us to develop a similar module like the BHR300 which will be embedded in its phones to enable them to be used in a range of RFID-based applications developed by third-parties."
"Currently, only three companies in the world, including MDT make RFID readers with Bluetooth connectivity and we target the world's mobile phone market since it is huge," Liew added.
Its RF-SIM looks like a regular GSM or 3G SIM module but with an integrated hybrid antenna on the SIM itself which operates at both 13.56 MHz for short-range operation and 2.45 GHz at up to 80 metres and it uses industry-standard EMV (Europay Mastercard & Visa) security with a unique identification.
Liew expects this RF-SIM to be used mostly for making electronic payments with the phone and claimed that the RF-SIM overcomes connection breakage problems of SIMs with external antennas and other problems of signal obstruction.
MDT also sells and promotes its ecologically-friendly, water, oil and dust-resistant PaperCard made from natural materials for use as credit cards and SIM cards.
"Unlike plastic, when burnt our PaperCard credit cards and SIM cards don't emit poisonous dioxin," said Liew.
MDT also expects to sell 10 million units of its UMR 300 USB Dongle HF RFID reader to a major customer in the United States.
The UMR 300 plugs into a USB port on a PC, PC-based cash registers, handheld devices, mobile phones or smartphones used especially in point-of-sale applications, such as at supermarket check-out counters.
"Most supermarkets have bar code readers with LCD screens which can only scan one item at a time in line of sight, whilst an RFID reader typically reads each item within 3 milliseconds or about 333.3 items per second and since it does not need to be in line of sight, it can read all the items in a shopping basket or supermarket trolley in one go, which saves much time," said Liew.
"Our DUR 300 USB Mini Desktop reader can be used in libraries. for asset management and access control applications," he added. It's currently installed in vehicle auto-gate security systems at over 30 sites in Malaysia.
The DUR 300 was released in January 2009, the UMR 300 in April and the BHR 300 in May.
MDT has also designed the inlays for RFID tag which can be read when attached to metal items, which have hitherto been difficult for RFID readers to read because of the metal.
"RFID technology has been talked about for the past five years but the size, cost and power consumption of RFID readers has limited its adoption. However, this has now changed with RFID reader modules costing under US$10 each," said Liew.
MDT had earlier developed applications based on its core technology know as MD700R, a mini RFID reader which earned it awards of in the Best of Communications and the Best of Security categories in the MSC Malaysia Asia Pacific ICT Awards (APICTA) 2007 in Kuala Lumpur in October that year. Its RFID Mobile Communicator and Certificate Authentication System respectively were selected as its two winning products.
At the same time, its MD770R ultra low-cost. mini-RFID reader module earned it the award in the Best of Research & Development category. At 9mm by 9mm, it is smaller than a 10 sen coin, costs one twentieth that of competing products, is one-tenth the size of the competition's smallest module, consumes one sixth the power, has 2KB of re-writeable Flash memory and was the only RFID reader with built-in memory.
The MD770R can be powered from a standard lithium coin battery, such as PC BIOS and real-time clock batteries. It consumes 10mA with its radio carrier on, 8.5mA with carrier off and 10 microamps in standby.
Its small size and low power consumption enable it to be integrated into mobile phones and other handheld devices and used for payment, ticketing and other mobile payment applications, though it can also be used in desktop RFID readers and in customised applications by third-party developers and system integrators.
Award Wining Product  
The MD770R also won MDT Innovations the MSC Malaysia Asia Pacific ICT Alliance (APICTA) 2007, Prime Minister's Best of the Best Award, which was presented in conjunction with the World Congress on Information Technology (WCIT) 2008 conference and exhibition at the KL Convention Centre on 17 May, 2008.
MDT also was a winner in the Red Herring 100 Award at the Red Herring Asia event on 2 December, 2008 in Hong Kong. Red Herring, a global media company selected MDT to be among the 100 most innovative private technology companies based in Asia, from among 1,000 short listed innovative companies in the region.
MDT then went on to win the Red Herring Top 100 Global Companies Award, presented in San Diego, California on 16 January, 2008 – the only Malaysian company and one of eight Asian companies to be included in Red Herring's Top 100 Global companies in the year 2007.
"MDT has proven to be a company excelling in their industry and its ripples have turned into waves," said Red Herring publisher Alex Vieux.
MDT submitted its healthcare application for the upcoming MSC Malaysia APICTA 2009 Awards – its 10th anniversary – to be held at the Putra World Trade Centre in Kuala Lumpur on 8th October.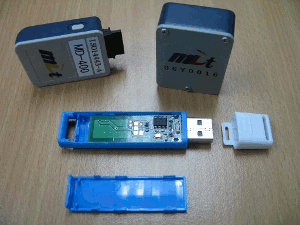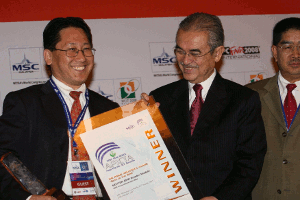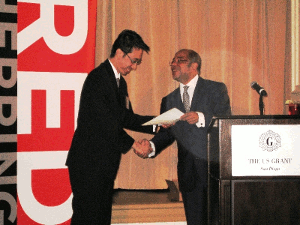 The original article was published online at www.commtechasia.net on 29th September 2009