MULTIMEDIA DISPLAY TECH PONDERS REVERSE TAKEOVER
By Shreen Kaur Published in the New Straits Times on 28th September 2009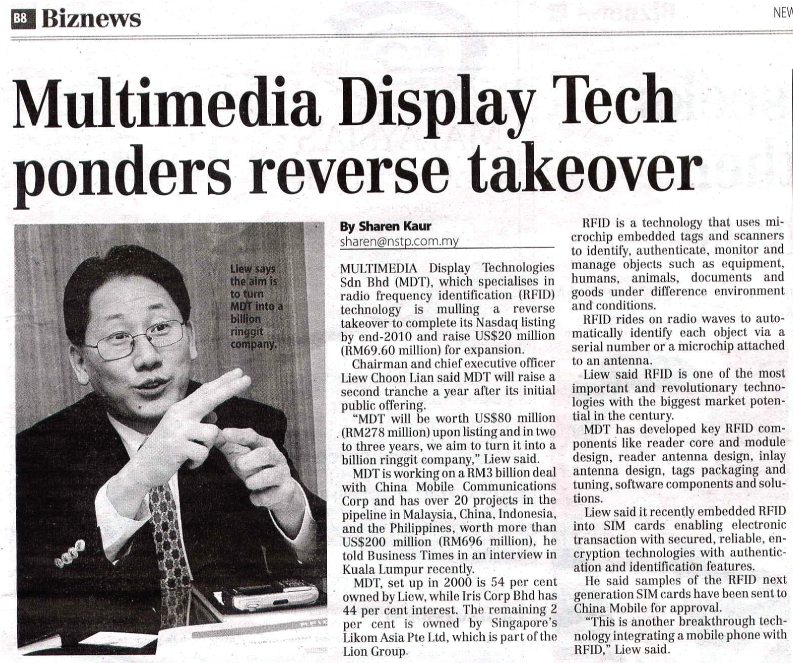 MULTIMEDIA Display Technologies Sdn Bhd (MDT), which specialises in radio frequency identification (RFID) technology is mulling a reverse takeover to complete its Nasdaq listing by end-2010 and raise US$20 million (RM 69.60 million) for expansion.
Chairman and chief executive officer Liew Choon Lian said MDT will raise a second tranche a year after its initial public offering.
"MDT will be worth US$80 million (RM 278 million) upon listing and in two to three years, we aim to turn it into a billion ringgit company," Liew said.
MDT is working on a RM 3 billion deal with China Mobile Communications Corp and has over 20 projects in the pipeline in Malaysia, China, Indonesia, and the Philippines, worth more than US$ 200 million (RM 696 million), he told Business Times in an interview in Kuala Lumpur recently.
MDT, set up in 2000 is 54 per cent owned by Liew, while Iris Corp Bhd has 44 per cent interest. The remaining 2 per cent is owned by Singapore's Likom Asia Pte Ltd, which is part of the Lion Group.
RFID is a technology that uses microchip embedded tags and scanners to identify, authenticate, monitor and manage objects such as equipment, humans, animals, documents and good under difference environment and conditions.
RFID rides on radio waves to automatically identify each object via a serial number or a microchip attached to an antenna.
Liew said RFID is one of the most important and revolutionary technologies with the biggest market potentials in the century.
MDT has developed key RFID components like reader core and module design reader antenna design, inlay antenna design, tags packaging and tuning, software components and solutions.
Liew said it recently embedded RFID into SIM cards enabling electronic transaction with secured, reliable, encryption technologies with authentication and identification features.
He said samples of the RFID next generation SIM cards have been sent to China Mobile for approval.
"This is another breakthrough technology integrating a mobile phone with RFID," Liew said.